The housing market is hot, and as a real estate agent, you know the importance of presentation. Making your client's property look attractive to prospective buyers is a must, as is posting ads with the right language and photos to entice buyers and renters. Once you've got those down, it's time to make sure that you're representing yourself and your business as best you can.

Why Real Estate Signs?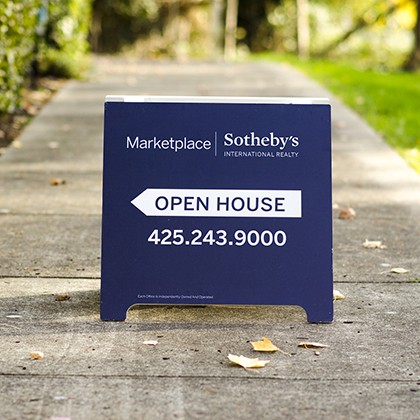 You might think that the answer is obvious: "To advertise the property." True, but a sign offers a real opportunity to stand out as a professional, confident, and caring real estate agent. A great headshot and a catchy slogan are great marketing techniques, but there's more needed to take full advantage of your real estate signs.


Tips for Creating Real Estate Signs

Here are some things to consider for your real estate signs:
Brand consistency: Does the sign have all necessary branding, including the storefront agency?
Style of sign: What looks best in the area where these signs will be posted? What style of sign: A-frame, H-frame, Post, or Panel? Whatever you choose should be appealing and not clash with the neighborhood aesthetic.
Materials: Real estate is a 'people' business. Choosing the right weather- and sun-resistant materials will make your brand look more professional and caring. After all, if you care enough to make sure you have a great sign, you'll put even more care into helping your clients.
Be specific: Is the property for sale, for rent/lease, an open house? That will engage the right audience.
Contact: Include your contact information! For open houses, an arrow indicating the direction of the property will suffice.
If you're ready to boost your real estate listings game, visit Stryker Designs and gain the advantage of working with a team of professionals who really care — just like you do.